AIMEN facilities are unique and innovative, with cutting-edge equipment. We aim to cover our partners and clients necessities in the fields of materials and processes.
2 centres
9.000 m2 of technological and scientific infraestructure
Cutting-edge equipment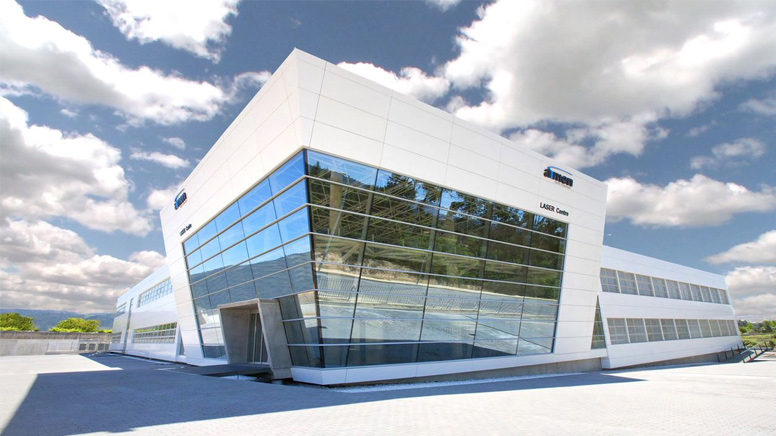 Headquarters.
Laser Applications Centre
Located in the industrial area of Cataboi, en O Porriño, it covers an area of 4.000 m2 on a plot of 11.100 m2.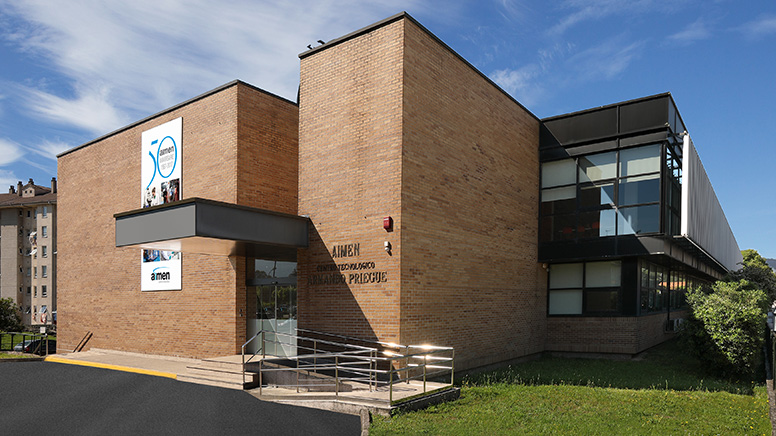 Torneiros Centre
"Armando Priegue" Building
With 5,000 m2, the building Armando Priegue is located on a plot of 7,500 m2 in Torneiros, O Porriño.
Equipment
Joining Technologies
MIG/MAG/TIG/PAW/SAW Arc-welding equipment
MIG/MAG Fronius Twin Arc TPS 7200
CMT y CMT Advanced Fronius
Resistance welding FRONIUS multi-welding systems mounted on a track of 4 metres and with capacity for setting work piece positions up to 1.500 kg.
Friction Stir Welding & Processing
Brazing & Soldering: Furnaces, Induction, Flame
Mechanical Joints
Adhesive Joints
Plastic cutting and welding equipment
Laser Technologies
Laser Macro-processing
ROFIN DC035 CO2 source 3,5 kW
LASERLINE LDL 160 Direct Diode laser source: 3,3 kW
LASERLINE Direct Diode laser source: 6kW
TRUMPF TruDisk Disc laser system 16 kW
Laser Micro-processing
SPECTRA PHYSICS Pulsed Nd source: YAG PRO-290-30
TRUMPF TRUFIBER fibre source 400W of monomode (with galvanometer head, optical fixed and cutting nozzle)
ROFIN fibre source 1,5kW of monomode (with galvanometer head and optical fixed)
Pulses sources: Nd YVO4
3D MICROFAB Laser Micro machining system
TRUMPF TruMark 6350 ultraviolete laser with processing cabine
EOLITE HEGOA IR40/G20/UV10 – 30ps Picosecond laser
AMPLITUDE SATSUMA HP2 (IR, GREEN and UV) fiber laser 400fs to 10 ps
MOPA 266-50 Crylas Laser. Pulsed laser with emitting 266 nm, pulse duration shorter than 950 ps
Handling: CNC gantries, robots and servo-controlled tables
Materials
Haake PolyLab QC System, extruding and mixing equipment with Rheomex CTW100 QC twin-screw extruder
RTM light Ciject Zero injection machine with mould heatable
Fontijne LabPro 1000 presses to composites (closing force 1.000 kn, Temperature max. 400ºC and mould 600x600 mm)
Plasma treatment equipment
ENGEL, Victory 40 injector equipment
Clemco Pulsar III Pressure Blast Cabinet
Automation and Robotics
FBG Sensors Interrogator: Fibersensing y Smartfiber
Yenista OSICS T100 1550 Tunable laser over C band
IR Camera (SWIR, MWIR):

XENICS Gobi-640-GigE: uncooled thermal vision camera, spectral band: 8-14 µm, 640x480 px, 50Hz
FLIR SC7600-MB: InSb infrared system. 640x512 px, pitch: 15 µm, frame rate: 1-100Hz (Full frame), window: 3400Hz (48x4), spectral band: 1,5-5,1 µm
Raptor SWIR OWL 640 Analog: 640x512 px, 15 x15 µm, 0,4-1,7 µm

ROBOTNIK Mobile Robot Guardian with load capacity 100 Kg and Schunk robotic hand of 6 degrees-of-freedom and load capacity 6 kg
ABB IRB 4400 anthropomorphic robot 6-axis
Enviromental
IR-FT JASCO 6200 Spectrometer
SHIMADZU 5050 TOC Analyser with a module to solid samples
WTW OXITOP 1230T-6 Meters for the determination of BOD 05
TECATOR 2006 DIGESTOR Kjeldahl digestion system with distillation unit
CI MEHTROHM 882 Compact Ion Chromatograph with autosampler
7890A AGILENT TECHNOLOGIES Gas chromatograph with FID and ECD detectors
Laboratory
Mechanical Testing
Universal testing machines, up to 1000kN
Resonance testing machines for fatigue testing
Microstructural Characterisation
HITACHI S-4800 II field emission scanning electron microscope with EDS and EBSD microanalysis systems
JEOL JSM 6400 scanning electron microscope with EDS microanalysis systems
Physico-chemical testing
VARIAN VISTA-MPX simultaneous ICP plasma spectrometer
BRUKER S4 Pioneer X-Ray Fluorescence spectrometer
PROTO iXRD portable residual stress measurement equipment using X-Ray diffraction
DEKTAK 8CSM profilometer
saline fog and humidity equipments
Non-destructive Testing (Radiographic-Ultrasonic equipment)
X-CUBE Compact Radioscopy Cabin from GE Inspection Technologies with 160 kV X-ray source
Computerised Axial Tomography System (patent no. ES 2341833 B2)
Gamma Radiography and X-Ray equipment
PERKIN ELMER XRD 1622 A014 Digital X-Ray Flat Panel Detector
DÜRR HD-CR 35 NDT Computer Radiography System
ISONIC digital equipment for UT and TOFD with graphic register
OLYMPUS OMNISCAN MX equipment for TOFD, PHASED ARRAY and UT
Metrology Dimensional
Mitutoyo EUROC 122010 Coordinate Measuring Machine 1200 x 2000 x 1000 mm
Polymers
TA instrument Q500 HighRes, thermogravimetry TGA (- 30 to 1000ºC)
TA instrument Q20 MDSC, Calorimetry DSC (-90 to 500ºC)
TA instrument Q800, Dynamic Mechanical Analysis DMA (-150 to 600ºC)