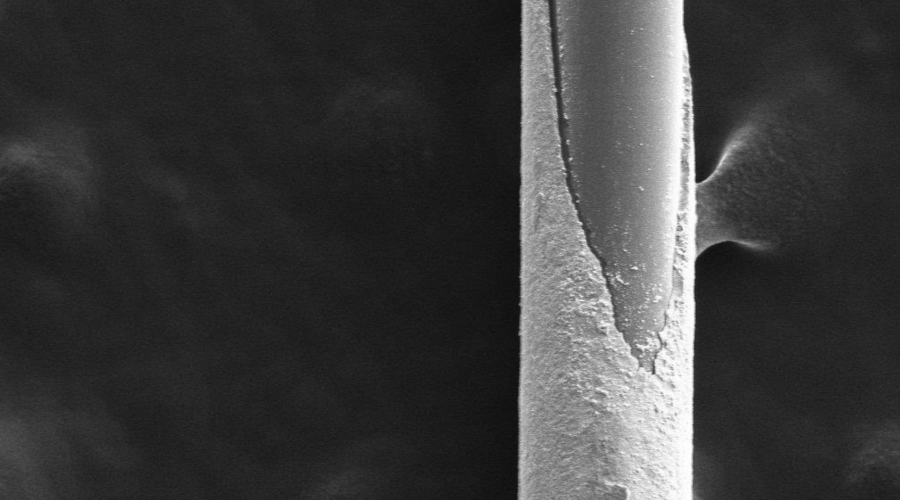 ---
O Porriño, 5th of December 2022.- The benefits of fibre optic sensors (FOS) for ambient conditions over their conventional counterparts (thermocouples, gauges, or extensometers) are well established; they are smaller, lighter, more durable, and can provide an enormous number of measurement points at a fraction of total sensor weight. These advantages make them the best option for monitoring infrastructures (equipment, pipelines, etc.) as well as components that require low-invasive systems, and they can be applied in specific fields as energy transformation (power plants), civil engineering or aerospace. However, fibre optic sensing is limited for applications with temperatures over 450°C. When exposed to higher temperatures, sensors are not stable and expensive coatings such as gold are required.
AIMEN Technology Centre has developed a new technology to manufacture a protective nickel coating on distributed and semi-distributed fibre optic sensors that enables them to work in environments with temperatures above 700ºC, and measure simultaneously temperature and strain. In addition, AIMEN's new process delivers metal coating thicknesses up to 1.4mm, several orders of magnitude more than commercially available solutions, providing a more robust and homogeneous coating.
Moreover, sensors coated with this technology withstand high temperature embedding processes like welding to integrate them in a structure to be monitored or into components to make them smart. In this way, these coated sensors can be deployed in equipment that cannot be easily accessible or that operates in corrosive environments, avoiding fixtures or adhesives that are not durable in the long term.
All these features enable new applications for fibre optics sensor in harsh environments, measuring in multiple points and several parameters directly or indirectly: strain, temperature, vibration, leakage, pressure, stress, corrosion, etc.).
These new coated sensors have been already tested by AIMEN in industry sectors as Energy, monitoring overheating of a biomass boiler and of a combined cycle boiler, as well as the strain of a concrete tank for storing molten salt in a solar thermal plant. The Ni coated FOS have also been embedded in the antifriction material of a very difficult-access component in the naval sector to monitor the component condition and detect the degradation of the antifriction material.
Furthermore, the new coated fibre optic sensors have the potential to be used in other applications such as aeronautics, chemical or metallurgical sectors, as well as technologically complex sectors such as geothermal or nuclear power, due to the stability provided by the FOS in adverse conditions, at high temperatures.
AIMEN Technology Centre is now looking to transferring this cutting-edge technology, which is patent pending, to optic fibre and/ or sensors manufacturers. For this purpose, there is an on-going action for contacting potentially interested parties. The regional government, Xunta de Galicia, is supporting AIMEN in this endeavour through the FRONTIER project. For more information contact: tania.grandal@aimen.es
FRONTIER Project – High Stability Distributed Fibre Optic Sensors coated by Nickel for monitoring infrastructure at high temperature, with file code IN855A 2021/26 is co-funded by the Xunta of Galicia in the framework of the resolution of February 9th 2021 of the Axencia Galega de Innovación, Ignicia Programme Proof of Concept (DOG #32 of February 19th 2021).